Wednesday, April 2, 2014
---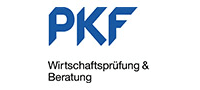 prodot offers its customers security
Through the certification in accordance with IDW PS 951 Type 2, the prodot GmbH now provides its customers with more security regarding data protection and the compliance with corresponding IT processes.
"The IDW PS 951 certificate proves the suitability and effectiveness of our services-related internal IT control system", explains prodot's CEO Mischa Hüschen.
The IDW auditing standard PS 951 was created to examine the internal control system (IKS) of service companies (outsourcing companies). It applies to outsourced processes and services.
This is a challenge faced by companies intending to outsource certain processes such as accounting, human resources or IT operations: The outsourcing does not give dispensation from the obligation to use a proper and effective internal control system (IKS) for the processes outsourced to a service provider.
As part of the certification process according to IDW PS 951, the existence and effectiveness of the internal control system (IKS) as well as the IT organization, including IT security and emergency management, are closely examined. One prerequisite for a successful examination is the complete and up-to-date documentation of the company organization, the IT organization and the IKS-related facts.
References / Links:
Institut der Wirtschaftsprüfer