ekugellager.de
Re-launch: Back on top.
---
The project's objective was a fast re-launch of the online shop "ekugellager.de" based on the latest technologies and standards as well as a new corporate design which appropriately reflects the brand.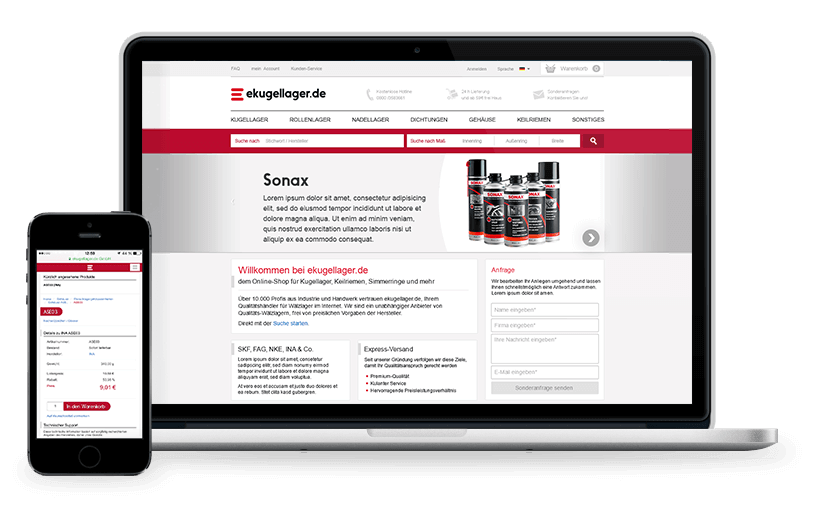 View project
Benefits for ekugellager.de
More security. More success.
As high availability is the top priority for an online shop, the customer wanted the shop to be fail-safe and to offer a secure connection for users. Therefore, we opted for a cloud-based solution.
Secure: The data communication with merchandise management takes place via a VPN (virtual private network). The encrypted connection to the Microsoft Azure Cloud allows for the highest degree of security.
Fast: Thanks to a search engine-optimized database, the desired search results are found within milliseconds via full-text search from a total of 80,000 products.
Extendable: The shop system has been designed in a highly modular format and can therefore be further expanded via useful plugins such as the import integration of merchandise management. Reliable data synchronization when checking stocks, receiving orders and shipping products ensures that all processes run as smoothly as possible.
Reliable: Two redundant instances on Microsoft Azure guarantee an availability of 99.95% of the shop.
---

About the company
kugellager-online GmbH & Co. KG
ekugellager.de is an independent provider of high-quality roller bearings, free of the manufacturers' price scales. The company offers its customers a comprehensive and constantly growing range of roller bearings, V-belts and accessories.
"We are revolutionizing the traditional way of buying roller bearings by offering new online ordering options and a large inventory that is immediately available."
Since its foundation in 2003, the main aim of ekugellager.de has been establishing new customer relationships and consolidating existing ones.