EUROVIA Germany
Integrating telematics and SAP –
Industry 4.0 at EUROVIA
---
EUROVIA, Europe's leading transport infrastructure construction group, has a major interest in optimizing the capacity utilization of its equipment as well as the corresponding fuel consumption. A pilot project at the company underlines the potential savings offered by introducing an overarching telematics system with tailored software.
prodot was given the task of developing a solution specially for the construction company and integrating data from several telematics systems as well as SAP into a software solution.
Using "geo-fences", activities on construction sites can be recorded and automatically processed – such as logging within the SAP system.
Moreover, the following goals are also realized:
Optimized vehicle and equipment capacity utilization
Optimized vehicle and equipment usage
Long-term storage of all telematics data
Automatic operating data logging
Minimized idle time
Extended intervals between servicing
Anti-theft protection via tracking
Compliance
Benefits for EUROVIA
More transparency, lower costs: Digital equipment management
The results speak for themselves – the digital equipment management solution tailored to the construction business has enabled EUROVIA to reduce its costs for fuel by around 5-10%.
The automated transfer of telematics, planning and usage data to SAP also substantially optimizes project controlling.
Efficiency & economy: Maximized equipment capacity utilization and exact recording of equipment usage - according to actually activities performed. Inefficient processes (e.g. idle times and incorrect usage) are reduced.
Real-time: Real-time tracking and alarm notifications for important events. This provides certainty regarding proper use of resources.
Independent: High degree of flexibility. The overarching interconnection with different telematics systems (MiX Telematics, CAT, Liebherr etc.) allows providers to be selected independently and ensures ideal adaptability.
Effectiveness: The sustainability of training and quality assurance measures is examined. This identifies valuable potential optimizations.
Safety & compliance: Agreement adherence with regards to data protection. Reliable compliance with legal regulations. Storage of usage data and reports in the IT center of EUROVIA for rapid, indefinite availability.
---
All fleet vehicles and construction sites at a glance
Which vehicles are in use at which sites?
Digital equipment management integrates data from different sources into one interface in order to give users rapid access to information on the location of construction sites, vehicles and construction equipment.
Resources can be efficiently planned and coordinated using this information, including across different telematics providers (MiX Telematics, CAT, Liebherr etc.).
Click on a red dot in the picture for more information.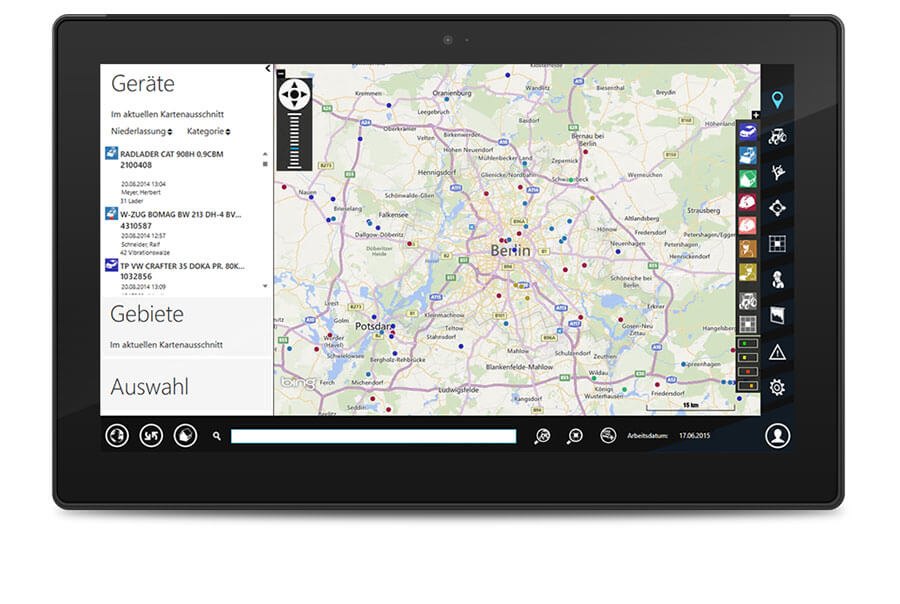 ---
All fleet vehicles and construction sites at a glance
The zoom-in function provides the exact status of a construction machine - color coding shows whether the equipment is working, being transported or requires servicing.
The list view only displays vehicles, construction equipment and areas which are visible on the current map.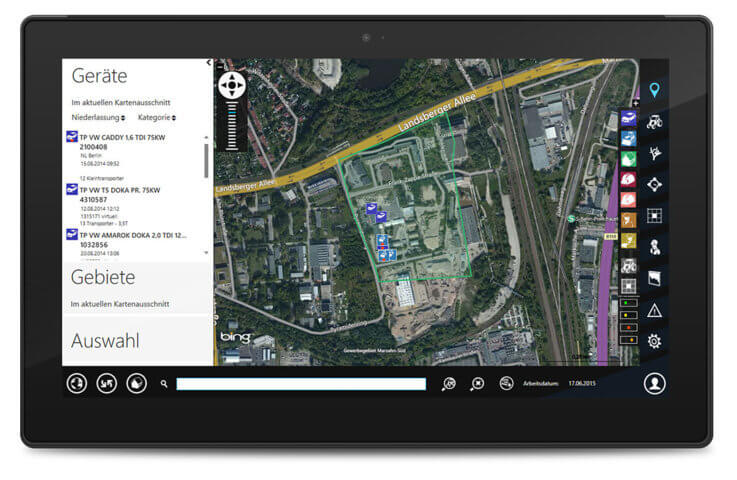 ---
Instant access to vehicle and equipment data
The detailed view for vehicles or construction equipment shows the operating hours, kilometer readings and current consumption data in addition to the current position.
Every vehicle is connected with the SAP system via an ID so that corresponding counters are automatically inputted back into SAP.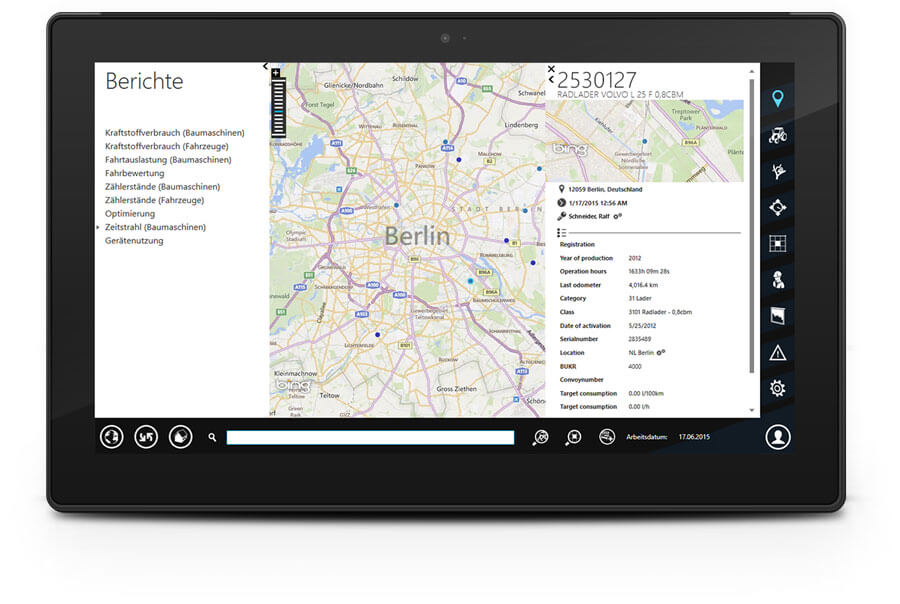 ---
Ad-hoc reports for direct analysis
Consumption and usage times can be viewed and analyzed as historical data for every vehicle or piece of construction equipment. This helps the company to use equipment and vehicles more economically. This in turn saves fuel and protects the environment.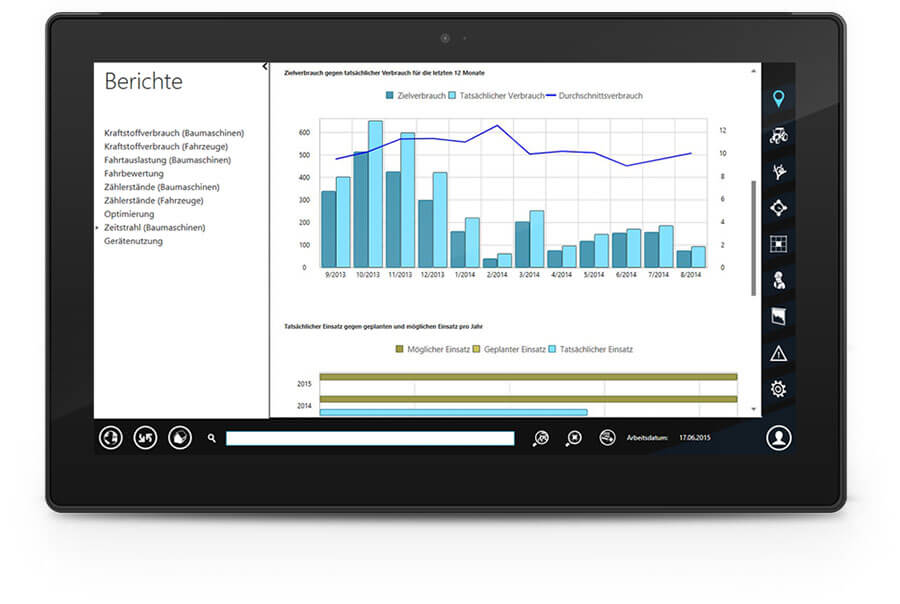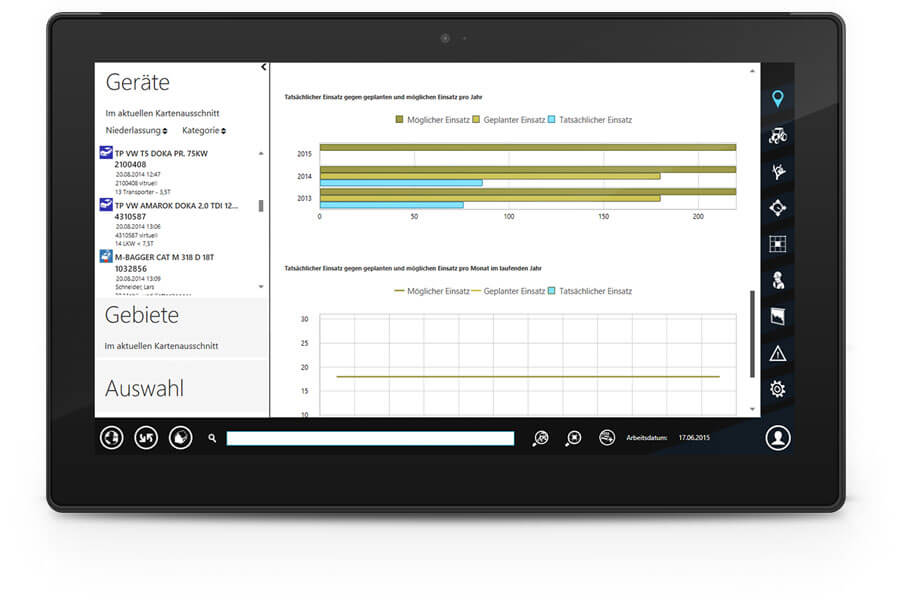 ---
Multi-step authorization concept
Seamless monitoring with alarm functions
A special authorization concept filters the data of different branch offices and user groups. Users therefore only receive the information and reports available to them. The representation of the company structure and allocation of the data takes place automatically via SAP and Active Directory.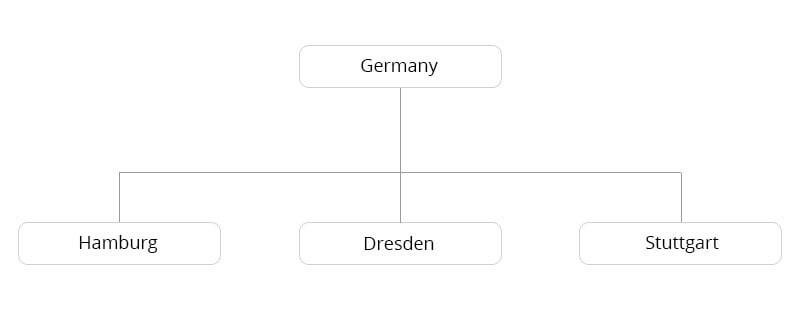 ---
Optimized equipment capacity utilization through internal sharing
Digital equipment management depicts the internal sharing process digitally in an effort to reduce the costs for external rental equipment and maximize internal capacity utilization. Branch offices are therefore able to easily register equipment as available, request equipment and borrow or lend machines.
The recording of the equipment in SAP takes place based on actual equipment usage.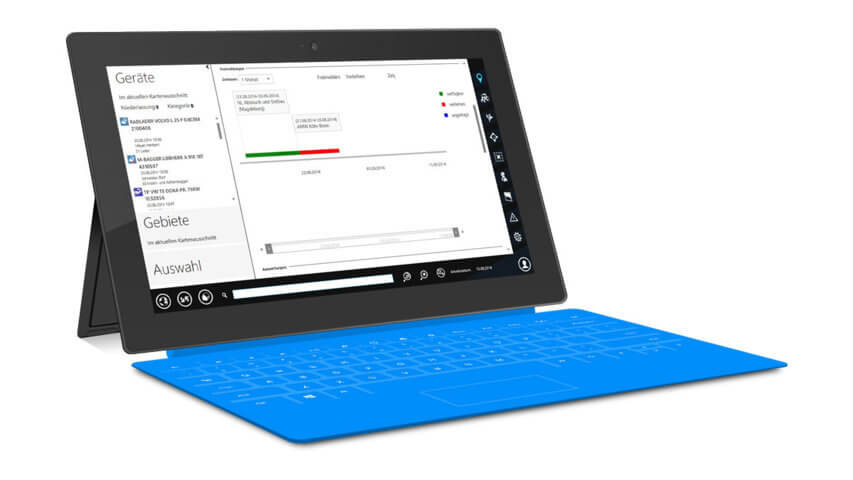 ---
Tracking & tracing, compliance
Tracking as well as the occurrence of important events is shown in almost real time. All data is recorded for use as historical data.
This allows important movement sequences and special events to be precisely tracked retrospectively at any time in the case of legal disputes. This automatically also helps in optimizing routes and driving behavior.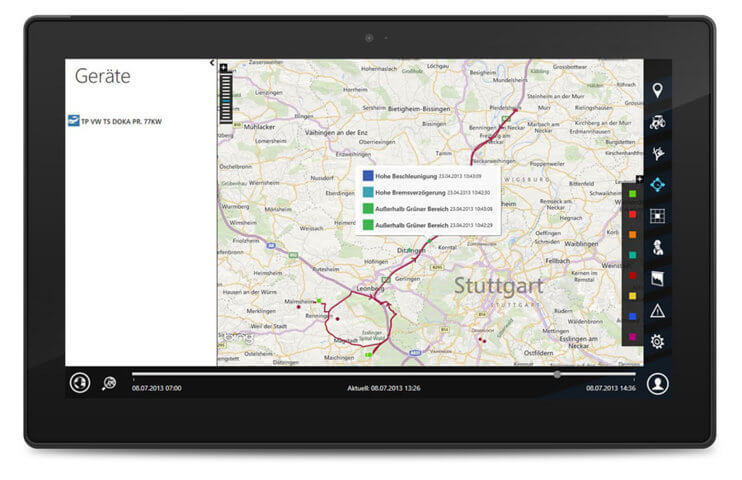 ---
Localization and theft protection
Reports via e-mail or SMS automatically inform staff of the occurrence of previously configured events, such as theft. Alarms signalize unexpected activities within the fleet outside of the construction site area marked by the site manager (geo-fenced). This boosts security.
Seamless monitoring with alarm functions

---
Always informed: Automated reporting and report distribution in line with a set schedule
All processes and data from the connected telematics systems are automatically recorded in the digital equipment management system – from positions, fuel consumption and operating hours to kilometer readings.
This allows the equipment and vehicle usage to be checked across multiple fleets. Inefficient processes such as idle times with running engines or incorrect use are therefore identified by the software.
Every report can be generated and sent out either ad-hoc or in line with a set time schedule. This specifically helps increase equipment availability, improves work cycles and helps avoid unnecessary fuel consumption and wear.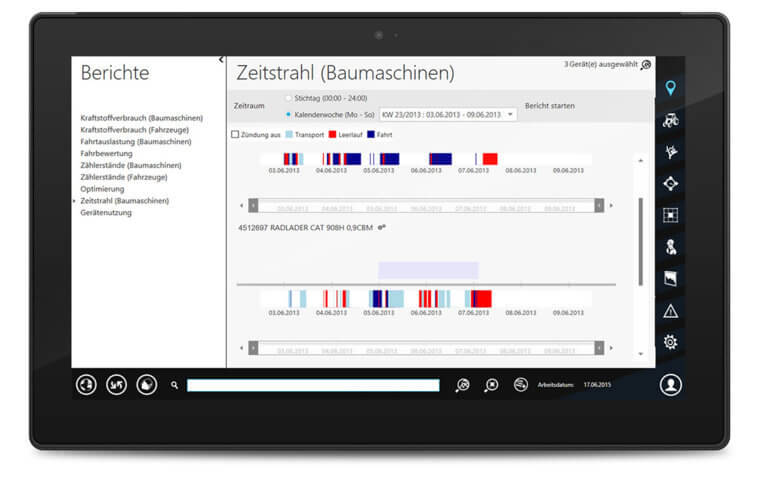 ---

SAP integration
The linking of all recorded construction site activities takes place with the help of geo-fences. These are prepared in the digital equipment management system based on address information from SAP and subsequently adjusted and activated by authorized personnel.
Overview of the construction site editing mode (after regular import from SAP).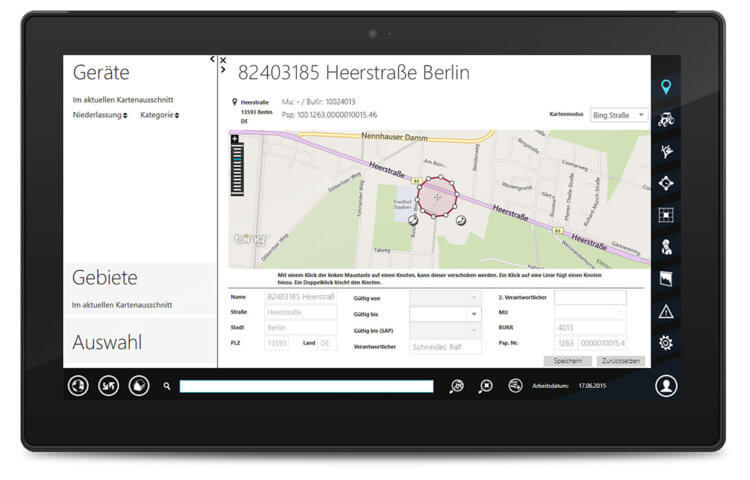 ---
---

About the company
EUROVIA GmbH
As a global player in road and transport infrastructure construction active in more than 15 countries in Asia, America and Europe, EUROVIA has an integrated network of 300 branch offices and is represented at 1,300 locations with building material production facilities as well as logistics centers for materials supplies.
With this market presence, EUROVIA covers the entire value creation chain within transport infrastructure construction in Germany. The service range spans from raw materials extraction and production, the recycling of road materials and project planning through to integrated construction site services, management and maintenance of infrastructures.
© EUROVIA