Aldi SÜD Group
Software distribution and reboots – with maximum control.
---
Aldi SÜD has a global network. As a result, installing patches and software as well as the reboots that these require pose a major challenge. With the ITSM console, prodot has developed customised software which allows installations and reboots to be optimally controlled.
Based on the standard software, this flexible solution enables convenient software distribution for various areas of the organisation. The actual execution of the installation can be delegated right down to departmental level in order to minimise interruptions to work.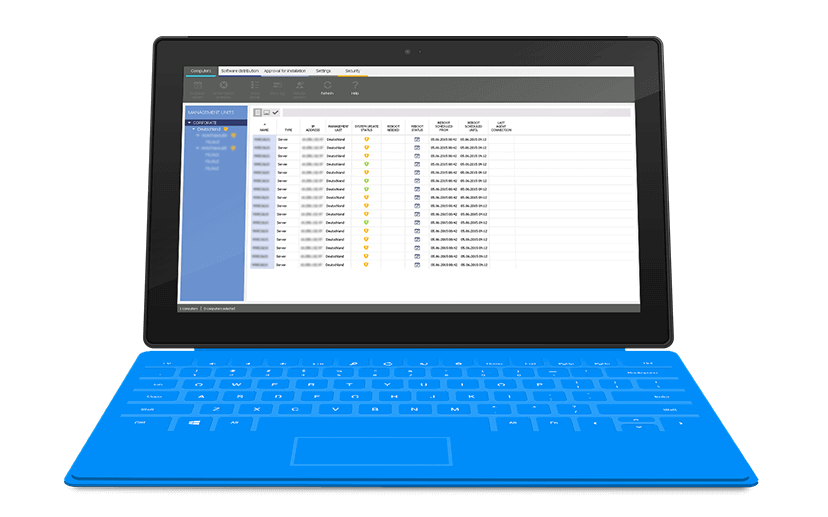 Highly flexible
Minimum impact. Maximum reliability.
Keeping an international server network up to date with the latest software while minimising user interruptions across various countries and time zones – this challenge is mastered by Aldi SÜD with the help of the ITSM console from prodot.
Simple: Responsible personnel are integrated into decision-making regarding the time of installations and reboots. To do this, user interfaces with a modern design are provided which are tailored to respective areas of responsibility.
Secure: Controlling the sequence of reboots via server groups and reboot sequences. All logged-in users are visible to the responsible staff – this allows any data loss caused by a reboot to be prevented with a simple call. After consultation, users can be logged out.
Checkable: All actions are protocoled in a SQL server database. Responsible staff are informed of all key actions by email.
Transparent: Overview across the entire organisation – various views ensure rapid orientation across several levels of detail. The view is limited according to permissions. It is also possible to track reboots in real time.
Structured: Freely definable management units allow servers to be grouped as required – irrespective of their position within the Active Directory.
---

About the group
Aldi SÜD
Aldi SÜD Group has written history with its philosophy of focusing on the most important things. It has been pursuing its discount concept for more than half a century, offering quality products at outstanding value for money. The focus on its own brands, a carefully selected and compact product range as well as clear product presentation have proven their worth.
Nowadays, the Aldi SÜD Group is one of the leading discounters in the German and international market. It is also one of the top ranked companies in the discounter sector when it comes to customer satisfaction. Around the world, Aldi SÜD operates over 5,000 stores on three continents across nine countries. The group is represented by 31 regional companies in western and southern Germany.