Aldi SÜD Group
The right workflow for every requirement.
---
Processes in focus: Our task was to develop a new solution for supporting the store processes of all user groups – from cashier personnel and store managers through to regional sales directors. The new solution was to take into account standards as well as best practice examples, have a consistent architecture worldwide and be extendable as required with high integration capabilities.
"Attempts are often made to solve various requirements with one single standard software solution – this is an inefficient approach when a variety of specialist processes are involved," explains prodot CEO Pascal Kremmers. "The store portal therefore makes a separate, tailored workflow available for every process."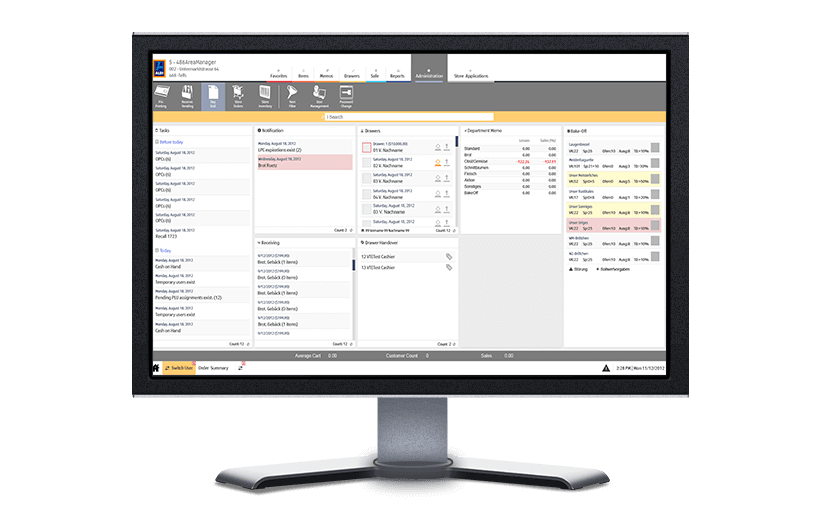 Thinking in processes
Knowing what the user wants.
Defining and developing the workflows required a detailed understanding of the work that goes on in the stores and the corresponding business processes. As a result, groups of users were integrated into the development process from day one. This intensive cooperation made it possible to represent the daily tasks of the users within the software – to the benefit of the company and its employees.
Intuitive: A task-related interface for rapid, simple access to all functions and information –minimising the time and training required.
More powerful: New functions for supporting additional store processes and realising potential savings.
Modular: Opportunities to extend and adjust the solution created with the help of the software development kits (SDKs) provided.
Integration capabilities: Simple integration of external programmes and connection to external service interfaces, and the range of applications can be expanded in line with requirements.
Secure: Higher degree of data and system security thanks to certified Microsoft mechanisms and separate user sessions when using the store portal in kiosk mode.
---
Successful in practice
More than just software.
This modular platform is used worldwide in over 5,000 Aldi SÜD stores. It provides over 90,000 users with efficient access to task-related workflows and data – depending on their position and area of work. The store portal already offers an excellent overview of all the relevant information as well as a simple, user-friendly interface, making it easy to become familiar with the system. The continued and consisted use of the concept underlines its high acceptance among users.
---

About the group
Aldi SÜD
Aldi SÜD Group has written history with its philosophy of focusing on the most important things. It has been pursuing its discount concept for more than half a century, offering quality products at outstanding value for money. The focus on its own brands, a carefully selected and compact product range as well as clear product presentation have proven their worth.
Nowadays, the Aldi SÜD Group is one of the leading discounters in the German and international market. It is also one of the top ranked companies in the discounter sector when it comes to customer satisfaction. Around the world, Aldi SÜD operates over 5,000 stores on three continents across nine countries. The group is represented by 31 regional companies in western and southern Germany.