Aldi SÜD Group
Highly-efficient processing of tendering online.
---
As an Aldi SÜD partner, prodot supported the discounter in optimising processes for the tendering of articles. The workflow was standardised internationally based on the requirements of the procurement staff.
Suppliers can conveniently enter all offer information online. This makes it possible to save intermediate results, receive reminders for deadlines and export tendering content to Excel. By the same token, Aldi SÜD procurement staff benefit from a rich client which covers all tasks within the tendering cycle – from designing forms through to the clear and standardised comparison of offers.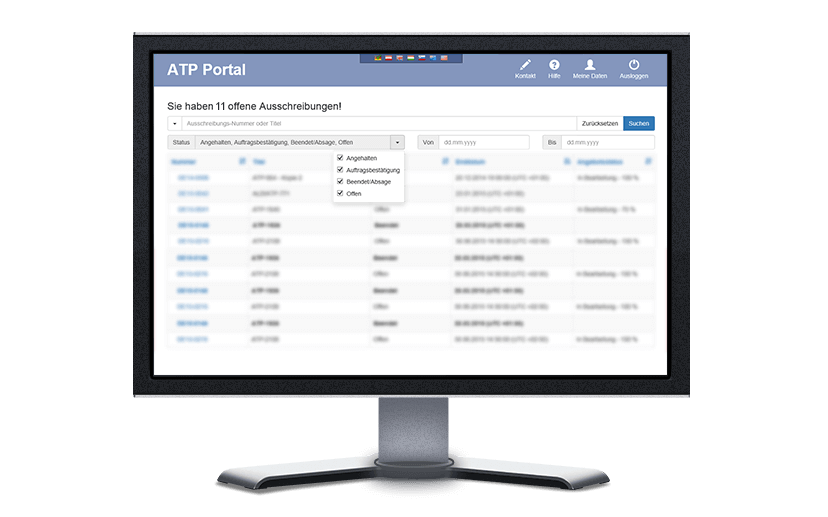 Harmonised processes across all countries
Optimised workflow for maximum efficiency.
With the introduction of the ALDI Tendering Platform (ATP), tendering processes which were previously largely manual were standardised and translated into digital workflows across all Aldi SÜD countries.
Efficient: The tailored workflow accelerates the tendering process, simplifies comparing offers and minimises erroneous entries.
Secure: Regular audits by independent testing institutes confirm the high security standards. Access concepts ensure that no supplier is able to view the data provided by competitors.
High-performance: Even large volumes of data can be entered conveniently (minimal technical requirements needed on the supplier side) and made available to decision-makers – quickly and clearly.
Adaptable: Wide-ranging configuration options allow country-specific adjustments to be made.
---

About the group
Aldi SÜD
Aldi SÜD Group has written history with its philosophy of focusing on the most important things. It has been pursuing its discount concept for more than half a century, offering quality products at outstanding value for money. The focus on its own brands, a carefully selected and compact product range as well as clear product presentation have proven their worth.
Nowadays, the Aldi SÜD Group is one of the leading discounters in the German and international market. It is also one of the top ranked companies in the discounter sector when it comes to customer satisfaction. Around the world, Aldi SÜD operates over 5,000 stores on three continents across nine countries. The group is represented by 31 regional companies in western and southern Germany.