Website optimisation for Bayer 04 Leverkusen
Powerful Content Management System (CMS) for a modern fan experience
---
Bayer 04 Leverkusen decided to replace its original fan experience concept with an all-encompassing solution. As part of its updated approach to the digital realm, all sources of content, statistical data and social media channels were to be combined for a re-launched website and optimised smartphone apps. The aim was to achieve a seamless and up-to-date user experience by digitalising all editorial processes – a concept guided by the user behaviour of modern football fans. The all-round solution was also to be integrated into the Azure-based Umbraco Cloud in the Bayer 04 Leverkusen Azure Cloud. The Bundesliga club appointed prodot GmbH as project partner for the realisation of the content management system (CMS) and content aggregation back ends.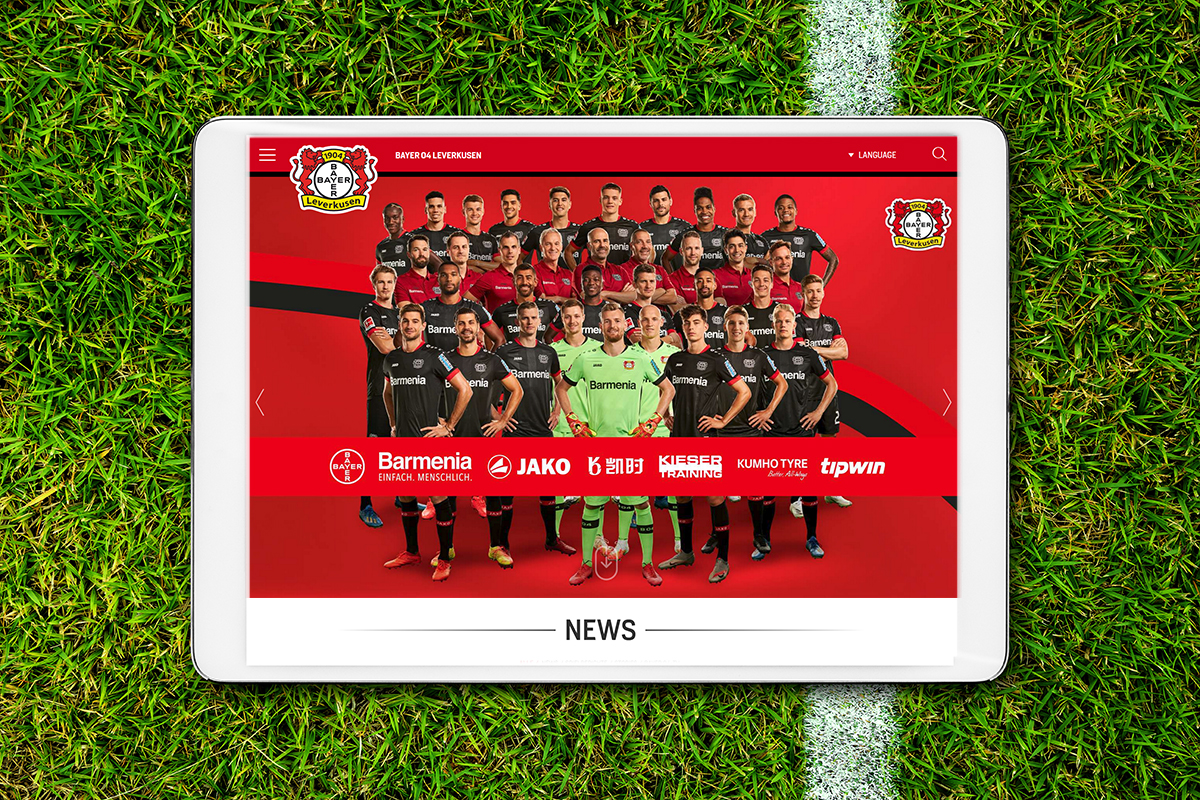 Back-end optimisation for the club's editorial team
Integrating a Website Back end for dynamic content publishing and management
With prodot's modern, powerful content management system, content can be created and dovetailed dynamically. It also integrates third-party systems, including for live content, statistical data, push notifications for the mobile apps, content aggregation of social media channels and digital asset management (DAM) for images. Thanks to the migration of the website infrastructure into Bayer 04 Leverkusen's Azure Cloud, the club now also benefits from enhanced control over resources.
The back-end editorial team is able to put together sub-pages of the Bayer 04 Leverkusen website independently within the content management system (CMS). Instead of creating fixed pages, the updated system works using entities, which define types of content such as a team or a specific player. The editorial team can then assign content blocks to these independently. Relationships between pieces of content are established using freely definable tags. The content aggregation back end then subsequently automatically puts together the content based on date or tagging, potentially complementing them with data from other systems, before publishing them dynamically on the website and mobile apps. The content management system (CMS) is capable of managing multi-lingual content, and pages are always linked and searchable. All content is optimised for search engines based on the current SEO requirements.
The website back end is:
Ready for integration: Connects to external data sources via API interfaces.
Powerful: Fast and dynamic publishing of editorial content via an intelligent content management system.
Intuitive: Page building in the back end uses content blocks and assignment of content using tag definitions.
Efficient: All content from photos to push notifications in the app are controlled centrally from the back end.
"Prodot GmbH was exactly the right partner for realising our new fan experience. The new solution was achieved using an innovative content management system (CMS) and content aggregation back end that was specially tailored to our requirements. It integrates the features of many individual applications into one solution, making content easy to modify and publish. This allows our editorial staff to work more autonomously and faster, while the architecture is more streamlined, modular and controllable," explains Heiko Schulz, Head of Digital Development at Bayer 04 Leverkusen.
Goal achieved: An all-encompassing and seamless fan experience
www.bayer04.de - More than a website
The updated platform gives Bayer Leverkusen fans an easy-to-navigate and immersive user experience – ranging from a live ticker to videos and news of their favourite team as well as many other exciting areas. Fans can enjoy a seamless user experience at www.bayer04.de thanks to the consistent look & feel as well as the responsive design of the front end of the website. Within the innovative CMS, the Leverkusen editorial team can autonomously and rapidly make changes to content as well as manage the composition of webpages. Creating and managing content is now faster and more direct than ever.
---

About the traditional football club
Bayer 04 Leverkusen
The historical Bundesliga club Bayer 04 Leverkusen – whose team is also known as the "Werkself" – was originally founded in 1904 as the "Turn- und Spielverein 1904 der Farbenfabrik vormals Friedrich Bayer Co. Leverkusen" – a sports club for staff at the local factory. It was established following a written request from factory employees to found their own sports team. The football team has been playing its way into people's hearts ever since and has been a Bundesliga club since 1979. Today's Bayer 04 Leverkusen Fußball GmbH was formed in 1999 by spinning off the professional squad of the Turn- und Sportverein Bayer 04 Leverkusen e. V. The club can look back on numerous sporting achievements down the years, including scores of international appearances in the UEFA Champions League and UEFA Europa League, as well as lots of notable work within the community, including tireless efforts in encouraging young talent, promoting inclusion and good health, providing development aid, volunteering and supporting charitable causes.