TK Elevator
Customer Portal
---
The customer portal developed by prodot in collaboration with TK Elevator keeps MAX customers completely up to date with the status of their equipment at all times.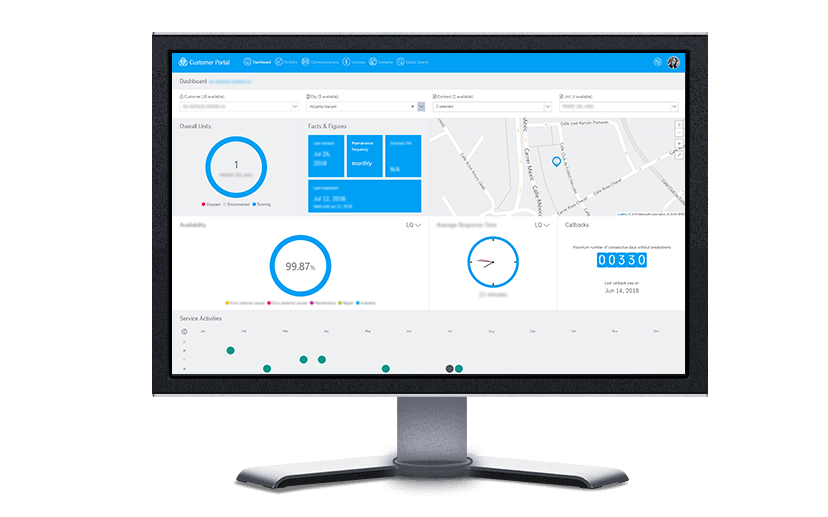 The multi-client-ready web portal uses analysis and real-time data from MAX and visualizes statistics relating to key figures like operating duration, door movements, distances covered, capacity utilization and equipment status. Users have the option of filtering and comparing statistics over different time periods and groups of equipment.
At the same time, users are also informed about diagnostics results from this smart solution; these can include the real-time status of the entire equipment portfolio or warnings about approaching downtimes (predictive maintenance).
A generic group concept allows different pieces of equipment to be grouped together and specific users assigned to these groups. All users can therefore only see what they are permitted to see. In addition, individual statistics for user groups can be turned on and off.
Statistics and data are also made available for other external systems using the corresponding REST APIs.
More about TK Elevator and MAX
Benefits for TK Elevator
Customer Portal
"We are delighted to have found prodot – a customer-centric service provider who understands our requirements and can optimally implement them in a collaborative and agile process."
"prodot's strong technological expertise with the Microsoft Azure platform also helps to keep approval processes to a minimum for all project stakeholders, and helps in promoting the rapid development of our solutions," explains Christian Jung, Manager Digital Operations at TK Elevator.
Near real time: Displaying precise status and availability of MAX-connected equipment.
Greater transparency: Clear statistics on usage.
High availability / Security: Highly available, secure, and easy-to-use interface for customers.
Maintenance management: Service requests and reminders of service interventions
---

About the company
TK Elevator GmbH
(until 07/2020 thyssenkrupp Elevator AG)
TK Elevator encompasses the thyssenkrupp group's activities in passenger transportation systems. With revenues of € 7.5 billion in the financial year 2015/2016 and customers in 150 countries, it has established itself as one of the leading elevator companies worldwide.
TK Elevator offers smart, energy-efficient and customized products across a portfolio encompassing elevators, escalators, moving walkways, passenger boarding bridges, and home mobility solutions, and also provides tailored service solutions for the entire product range. Over 50,000 employees across 900 locations around the globe form a competent sales and service network, ensuring optimal customer proximity.