Saturday, October 17, 2015
---

prodot employee wins IoT competition
Comfort comes home with intelligent systems for home automation. prodot has the know-how to do the job: In a contest held by Hackster.io, the world's largest community for hardware development, automation specialist Christian Kratky took home first prize for the European region.
Use a Raspberry Pi2 running Windows 10 IoT Core: These few words sum up the rules for submitting a project to the Microsoft-sponsored competition. Kratky impressed the panel of judges with his home automation entry developed in C#. The finished product was able to control seven rooms and 180 configurable and combinable sensors.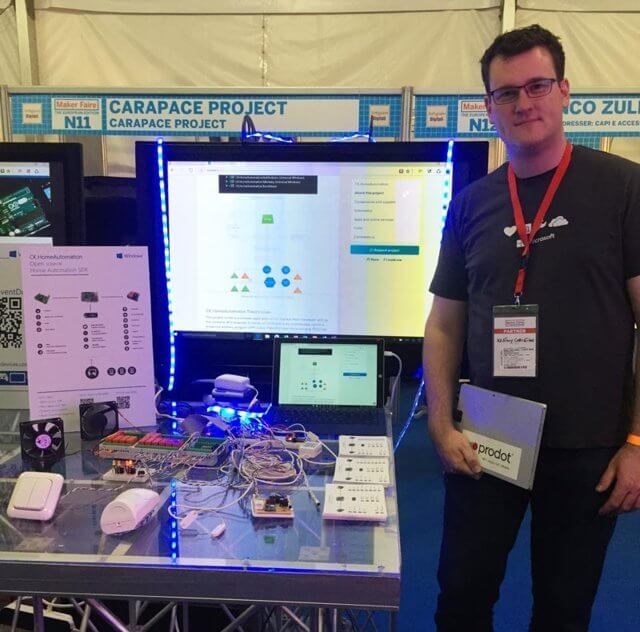 The actions are manually controllable or can be activated by movement sensors, time or brightness. Actions related to lighting, ventilation and heating can be conveniently controlled via an app programmed in HTML, Bootstrap and AngularJS. Kratky's version, for instance, opened the window shades when light sensors detect the sun's first morning rays. If the outside temperature rises above 28°C, the shades are closed again, to keep the home at a comfortable cool temperature. When it gets dark, the hall lights automatically turn on. To enhance energy efficiency, the completely open source solution also saves every status change, allowing for a precise evaluation. And best of all: "For me, the greatest feature is the ventilation for the kitty litter box," reports the winner with a wink. "When the cat is detected in the area, it activates the ventilation system so the smell goes outside."
The prodot team is proud of their colleague's success: "Christian showed how expertise and determined passion can create ground-breaking results," explains CEO Pascal Kremmers.
References / Links:
Project page
GitHub repository